---
Tami Goetz served as the Director of the Salt Lake Community College (SLCC) Biotechnology Program for six years and helped to create the 2-year Biotechnology and Biomanufacturing Program at SLCC, the 4-year Biotechnology Program at UVU and a one-year high school Biotechnology Program for juniors and seniors that is offered at numerous high schools across the state. Goetz has led the creation of innovative education programs that are nationally recognized such as the non-profit contract research organization InnovaBio and the training life science business incubator, BioInnovations Gateway.
Dr. Goetz was appointed by Governor Olene Walker to serve on the Governor's State Advisory Council for Science and Technology in 2005. She was appointed by Governor Jon M. Huntsman, Jr. to serve as State Science Advisor in August of 2007. During her tenure as the State Science Advisor, she was the lead on Utah's U.S. Department of Labor Workforce Innovation in Regional Economic Development (WIRED) Initiative that promoted education and training for life sciences in Utah. Goetz helped to launch the State's first Science, Technology, Engineering and Math (STEM) education and workforce initiative, which resulted in the creation of the STEM Action Center. As State Science Advisor, Dr. Goetz served also as the Director for the Utah Life Science Economic Development Cluster for the Governor's Office of Economic Development.
In 2012 she accepted a position at Utah Valley University in the College of Science and Health as Assistant Dean for External Relations. She is taking a leave of absence to serve as the Executive Director for the Utah STEM Action Center.
Dr. Goetz was recognized as "40 Under 40 Rising Stars" in 2004 and "30 Women to Watch" in 2007 by Utah Business magazine. She also received the Award of Merit by the National Association for Career and Technical Education for her work to support secondary science and math education programs. Tami received the 2008 Women Technology Council's "Community Builder" award and was the recipient of the 2013 Governor's Medal for Science and Technology.
---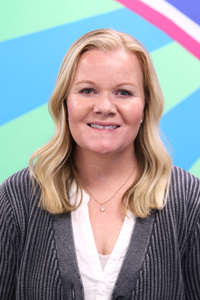 ---
Ms. Redington is the Program Director for Utah's STEM Action Center office. She is originally from San Luis Obispo, California. She attended Utah Valley University where she graduated Magna Cum Laude and received her BS in Legal Studies in 2006. During her studies at UVU, she interned with the United States District Court Probation and Pretrial Services Office where she prepared complex reports relating to the federal adjudication process. Upon graduation, she spent three years working at the Utah Department of Corrections as a Supervisor and Court Liaison over the Court Services Unit. In 2009, Ms. Redington joined the Governor's Office of Economic Development. She is a graduate of the University of Utah from which she holds a Master of Public Administration degree.
She and her husband, Mike Redington, are the proud parents of three children. She enjoys watching and playing sports, reading, and going to movies with her small family.
---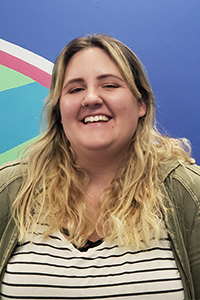 ---
Gina Muhlestein's job is to keep the STEM Action Center running smoothly behind the scenes.  Her mission is to make everybody's job easier and as enjoyable as possible. She has always treasured learning new things and sharing the joy of learning with others, so working at the STEM Action Center is a dream come true. Gina enjoys mornings, long walks, and even longer D&D sessions.
---
Research and Implementation Manager
---
Clarence Ames is a STEM Program Specialist at the STEM Action Center. He has an M.S. in Instructional Technology and Learning Sciences from Utah State University, and a bachelor's degree in Public Relations from Central Washington University. He is passionate about helping people develop the skills they need to become independent and self-sufficient, and his life goal is to empower students and teachers to create a system of education in which the only limitations on breadth or depth of learning are one's own desire, passion, and motivation. Before joining the STEM Action Center he worked as a researcher and project manager at USU evaluating the outcomes of STEM related education initiatives in the state of Utah.
He enjoys reading, rock climbing, painting, and visiting national parks with his wife Kaitlyn.
---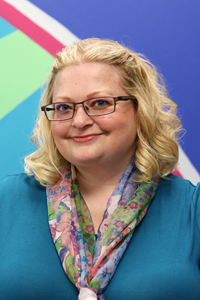 Collaboration and Program Development Manager
---
Kellie Yates is the STEM Liaison between STEM AC and USBE at the STEM Action Center. Formerly, she attended Utah State University and graduated with a bachelor's degree in the area of Technology and Industrial Education. After graduation, she worked as a teacher in the public school system, teaching both high school and middle school Technology and Engineering, for 11 years before joining the STEM team. During this time she was also an adjunct faculty member at Utah State University. Ms. Yates is a passionate advocate of STEM education and training, and will be using her interests and skills to help advance STEM training in Utah.
---
Community and Innovation Manager
---
Lynn Purdin serves as the STEM Workforce Development Liaison between the Utah Department of Workforce Services and the STEM Action Center. She utilizes her 24-year State of Utah career experience to provide guidance and facilitation for workforce development initiatives, stakeholder partnerships, and grant proposal development, implementation and monitoring. Lynn partners with industry, education, and community partners to identify and impact statewide workforce development constraints within Utah's key economic sectors. Lynn received her B.S. in Sociology at Illinois State University. She pursued Master's level coursework at Suffolk University in Boston, Massachusetts, with a focus on Public Administration. Lynn was also designated a Utah Certified Public Manager in 2007 and awarded a Department of Workforce Services Operational Excellence Cornerstone Award in 2015.
---
---
Allison Spencer has a wealth of knowledge and experience as a non-profit professional and consultant that spans more than a decade. As the previous Foundation Director for the Canyons School District, she was responsible for the formation of a foundation board, and together they successfully raised awareness and funds for STEM-related programs. Allison welcomes the opportunity to develop relationships and working closely with community leaders and local businesses to achieve the goals and objectives of the STEM Action Center.
---
Marketing and Communications Manager
---
David Wicai is the Marketing & Communications Manager for the STEM Action Center. He is originally from Palm City, Florida and has been in Utah since 2012. David attended the University of South Florida and graduated with a bachelor's degree in Marketing and a minor in Economics. He also holds a Master's of Fine Arts in Arts Administration from Southern Utah University.
Before joining the STEM Action Center, David was the Executive Director of the Land Cruiser Heritage Museum in Salt Lake City. He has also worked within the Utah Department of Heritage & Arts as the Public Information & Data Specialist and within the Utah Division of Arts & Museums as the Marketing & Communications Manager.
His mission is to serve Utah communities at large and promote the value STEM education and cultural organizations bring to them. He was a recreational and professional tubist for 13 years and enjoys sports, music, and overlanding with his family.
---
---
Jack is the Manager for the AmeriCorps Math Mentoring Program Grant. His educational background in philosophy and data analytics has made him passionate about helping improve students' analytical skills and improving access for the future workforce. He always likes to think about how good things can be made better, much to his co-workers' chagrin. In his spare time, Jack enjoys being a film nerd, frequenting libraries, and putting googly eyes in unexpected places.
---
STEM in Motion Program Manager
---
Colleen is a Colorado native who has spent the past seven years out in California getting her Bachelor's of Environmental Science at Santa Clara University, and her Master's of Science at Cal Poly Pomona. She worked as a STEM educator at a low-income school in Pomona while getting her Master's, and is passionate about educating our future generations. Colleen is excited to travel around the state, reaching as many students as possible to inspire them in the STEM field. In her free time, Colleen can be found out in the mountains rock climbing, snowboarding or birding.
---
STEM in Motion Program Coordinator
---
Becca Robison is a STEM-obsessed Utah native whose life has been dedicated to making STEM education accessible to all. At the age of 10, Becca founded AstroTots: Science Camp for Little Dippers, an international service venture that provided free STEM camps to girls ages 4 – 10. After studying Elementary Education, Becca focused on informal STEM education by managing STEM-focused afterschool and summer programming. Becca now serves on the Utah STEM in Motion team, and enjoys traveling the state spreading STEM to the students of Utah.
In Becca's free time she enjoys video games, hobby robotics, and spending time with her family and friends.
---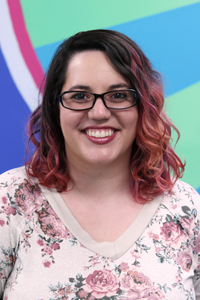 STEM in Motion Program Coordinator
---
Julienne is a Coordinator with the Utah STEM in Motion Program. Her education in entertainment technology combined with her experience working for young people creates a passion for STEM Education. She is always looking for new ways to help students and adults alike to engage creatively with STEM, to play, to innovate, and to change. She loves all things geeky, admiring the beautiful Utah mountains from the comfort of her home, and buying more books than she can reasonably read.